Hapag-Lloyd's Knowledge Center
In shipping we have great teams of over 400 dedicated IT experts. We aim to keep a startup spirit alive while at the same time offering the security of a well-established global player. We are responsible for a wide range of digital products and services: freight information system (FIS) - supporting all the core business processes in container shipping, our very successful web channel, mobile apps advanced by Solutions for Analytics, Robotic Process Automation and AI solutions.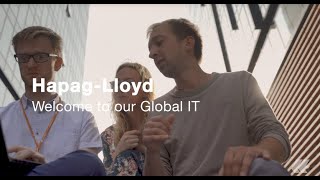 Hapag-Lloyd's Knowledge Center
The Knowledge Center is located in Gdańsk, where Adam Sikorski is its Site Lead. KC houses most of Hapag-Lloyd's IT Specialists, global Dangerous Goods Validation, Accounts Payables, Business Administration Departments and Global Procurement.
175 years of Hapag-Lloyd
On 27 May 1847 a group of shipowners and merchants founded the Hamburg-Amerikanische Packetfahrt-Actien-Gesellschaft (Hapag) in Hamburg. Then, it was not until 1970 that Hapag-Lloyd AG emerged from Hapag's merger with Bremen-based North German Lloyd. In 2022, we celebrated 175 years.