return to list
🤓 Brand Designer
6 000 - 9 600 PLN netto
🌍 Netguru | ul. Małe Garbary 9, Poznań
🖥 http://www.netguru.com
#designer, #brand, #design
Salary: 6 000 - 9 600 PLN + VAT (Contractor) or 5 000 - 8 000 PLN Gross (UoP)
Required skills: knowledge of video/animation production; ability to develop brands and create assets for marketing campaigns; knowledge of the Ul & UX principles; strong portfolio; English C1
Team: join a skilled team of developers, designers, and a CRO expert within our 40-people Growth/Marketing Team!
Perks: +1 000 PLN home office bonus, flextime and flexplace, Multisport card, private health insurance, discounts on Apple products, development budget, access to Worksmile Platform and more
Paid days off: 16 for B2B or 20-26 for UoP
Location: Poznań, Relocation to Poland, or remotely from Poland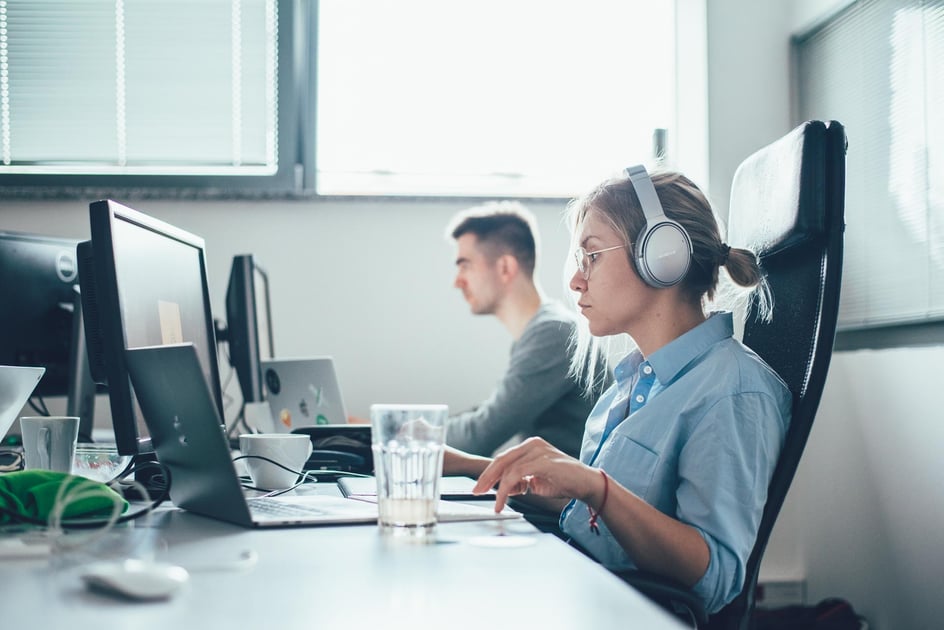 What's in it for YOU?


Working in a fast-paced yet friendly environment.
Collaborating with experienced and highly qualified specialists from different areas of expertise.
Enjoying flextime and flexplace: adjust your daily schedule to your individual needs, work from the office or from home.
Having a smooth start: your leader and a buddy will support you and mentor you.
Using great tools: Adobe Creative Suite (Photoshop, Illustrator), Figma, Canva, Google G Suite.
Working on the best equipment: we will provide you with a MacBook and additional accessories for your computer (e.g. an external display) to make your work even more efficient and comfortable.

Let us guide you through your main responsibilities:


Brand design and long-term brand development.
Creating compelling brand marketing, communications, and promotional assets for both internal and external use.
Leading creative brand asset design and management from concept to in-market execution.
Improving processes by introducing solutions and how-tos.
Delivering key visuals and templates for the Growth & Employer Branding Teams.
Delivering user- and conversion-friendly UI/UX design for netguru.com.
Guarding brand coherence across all media and creating quality assurance standards/policies.
Working with designers, content managers, and top growth experts.

Ready to apply? First check if you:


(Must-have) Have a basic knowledge of video/animation production (you've worked with external agencies).
(Must-have) Have a strong command of written and spoken English (CEFR C1+); Polish not required.
Have successfully developed brands and created assets for marketing campaigns.
Are great at creative and strategic thinking, with a knack for building bullet-proof design systems.
Have a strong sense of composition and know how to build information architectures.
Know the principles of UI and UX design.
Have measured the success and failures of your design choices.
Are able to communicate effectively with non-designers and have experience in working with them.
Are able to explain complex things in a simple way and can write perfect manuals.

It would be a plus if you:


Know the principles of brand building and growth practices.
Have a basic understanding of illustration or you've worked with internal illustrators.
Have used tools such as Google Analytics and Hotjar.

Perks and benefits for you:


Access to the WorkSmile platform offering benefits adapted to your preferences:

Multisport card,
Private health insurance package,
Life insurance,
And hundreds of other options to choose from 15 categories (shopping, leisure, travel, food, etc.)

Support for your growth – a book budget and a head/manager's budget available to every employee,
Discounts on Apple products,
One-time 1000 PLN home office bonus,
Home office equipment sharing option,
Various internal initiatives: webinars, knowledge sharing sessions, internal conferences.
What will happen next?


We'll review your application and your portfolio. Before applying, please make sure your portfolio is up-to-date.
You'll receive an email from our recruitment team if your application matches our requirements.
We'll meet at an online interview with our Recruitment Team and our Growth Team.
If the interview goes well, we'll ask you to complete a recruitment task.
We'll meet at the final online meeting with our Growth Team Leaders so you can present your task outcome.
If you need any disability-related adaptation at any step of the recruitment process – simply let the recruiter know! We'd be happy to help.

About Netguru:
Our mission at Netguru is to help entrepreneurs and innovators shape the world through beautiful software. As a Certified B Corporation®,we offer a safe, inclusive and productive environment for all team members. If you want to work from home and be a full time employee, great - you can apply right away.